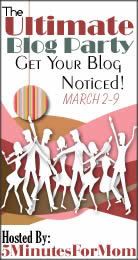 Well, you know I love a great party! Even more, I love to be the hostess! Susan and Janice over at 5 Minutes For Mom are having an Ultimate Blog Party! Everyone gets to host their own li'l blog party, we toss them all together at
5 Minutes For Mom
and VOILA! Instant good times!
Basically, you join the party by posting the banner on your blog and inviting everyone (like I'm doing to you right now), then you sign up with their Mr. Linky by 12 PM EST on March 8th. When you join, you become eligible to win some great prizes! It's a really cool way to get noticed and for a newer blogger like me, that's great news!
Visit
Susan and Janice
for all of the details.
MORE PAR-TAY TALK
I am planning Matthew's 9th Birthday party. We are having a carnival theme. I have made a penny-pitch game, I have a few copy boxes to make vendor's boxes (you know, like at the stadium?) for hot dogs and popcorn and I have a few more tricks up my sleeve.
I am not one of those people who spends
$10,000 for a kids party
. In fact, I try to do it as
cheaply
cost effectively as possible.
I found some "ADMIT ONE" and "KEEP THIS COUPON" tickets at the Dollar Tree (that's right $1 per roll. I bought one of each.). I plan to use the admission tickets for the invitations and have a door prize drawing with the raffle tickets. I'm recruiting the older sisters of my son's friends to run the games. It should be a really fun time!
Games:
Penny Pitch
Softball Toss (into a basket)
Hoop Shoot (with a small indoor hoop we already have)
Golf (with a kid's set we already have)
Football Toss (
if
I can get find the hole in our blow-up football player and patch it)
Baseball Throw (we have this
electronic game
for this)
These aren't set in stone and I may add or delete things. Do you have any ideas for more creative carnival games?
I would also like to get a refrigerator box and make a couple of those "photo op" thingies with the faces cut out if I get really ambitious!
Give me some feedback on this. Leave a comment (even if you aren't a blogger) and gimmie some suggestions. Thanks in advance for your answers!